A Fistful of Style: Even after all these years I still can't frame a goddamn WIWT.
Jacket: $40 (No Tags)
Sweater: Vtg. LLBean $5
Shirt: Vtg. Brooksgate by Brooks Bros $2.50
Jeans: Penguin (selvage) $5
Scarf: Vtg. B Altman Co. $2
Boots: LLBean Sig (Clearance) $80*
*Ed Note: This makes them more costly than anything else currently in my wardrobe
A Fistful of Style: Dangerously close spring 
Sometimes I still wear a jacket and tie.  Though I always attempt to dress it pretty far down. Also, contrary to conventional [poundsign]menswear opinion, I find a bit of drape/break gives me a bit more presence.  
I'll still do the super slim thing sometimes (what can I say, my fiancee digs it), but that's when I'm trying to look like a cool skinny guy wearing cool skinny clothes. Maybe going to a cool event or walking around town for the Art Walk, but it doesn't suit me too well at work.
At work I like to lift my arms and squat without worrying I'm going to pop something (or perhaps worse, pop something out of something else).
—————————————————————-
Jacket - Vtg. Polo $5
Shirt - J Crew $4
Tie - No Tags (wool) $1
Pocket Square - "Made in Italy" $2
Shoes - Cole Haan $40
Pants - LLBean Sig (clearance) $60
The Thrifted Wardrobe: Great Defunct American Shoemakers
As much as I feel estranged from the greater #menswear community (mostly self-imposed, to be sure) I am a style blogger and as such I love shoes.  
[Lots of shoes]*
I live in Maine which, historically, was the home of shoemaking in the US.  Prior to about the 1970's there was also a "cottage" industry of the form (not in actual cottages, but in Lewiston-Auburn alone there were dozens of manufacturers with their own factories, and if you've ever heard of Lunn Swett or Fitz Bros Shoes I'll give you a dollar**).  This means there are lots of old, hardcore American shoes floating around as nice shoes took a backseat to square toed glue jobs that somehow people think are "nicer" than actual nice shoes that are nice.
But shoes are expensive.  Most use this high cost as a means of convincing you to buy better since a well made pair of shoes will last you most of your natural life.  Due to this longevity I say you're a fool to pay full price.  Particularly when so much of what you pay for in any fashion related industry is branding and name.  So rather than hitting up Allen Edmonds or Meermin or whatever the reasonably-priced-fairly-stylish-#menswear-blogger-approved shoes for a couple hundred bones, try hitting up a thrift for some classic American shoes by a now defunct brand like…
Hanover
($5)
These shoes are the really real deal.  They weigh about 15lbs, are shell cordovan with that great reddish brown color, and double soles thick enough to kick down doors with.  Perfect with jeans or moleskin/flannels (something with good texture) in the fall.
Bostonian
Perhaps the biggest tragedy of the decline of American shoemakers, these are Bostonian (yes, that Bostonian) proving that, in pre-eyesore days they knew what they were doing.
These again are Shell Cordovan wingtips in a great reddish brown.  Great paired with gray flannels or tweedy-trousers on a bright winter day. ($8)
But they also had Italian influenced monk strap jobbies.  Super slim in a rich chocolate brown color that goes great with raw denim or slim chinos (bonus points: these let everyone know that you read blogs)
$8 Each
Sebago
Which is now known pretty much only for boat shoes, used to have a full line of Oxfords and other welted shoes like…
These black wholecuts.  With a just a bit of decorative stitching on the vamp these are spectacularly classy but not flashy black dress oxfords.  Suitable for any occasion one would need black oxfords up to and including black tie. ($7)
Of course it is/was a Maine company, so they'd be remiss if they lacked a chunky, brogued monkstrap in a bold color.  These guys are great for jeans or corduroies or anything other more casual attire so that their unique ruggedness can appropriately come through.
($8)
Dexter
And now the grandaddy of them all.  Anyone who grew up in New England in the 80's and 90's has to remember the Dexter outlet stores that dotted the billboardless landscape of Northern New England.  Filled floor to ceiling with rich leather smell and Americana (with a capital AMERICA)
Starting with the quintessentially American shoe, the penney loafer.  This one features a perfect moc toe and penney strap.  Perfect for wearing anywhere in Northern New England at any time (excepting foul weather where Bean Boots take their place) ($8)
And then a variation on the classic Penney, these are slightly more aggressively styled (high vamp, slightly chiseled toe, narrow moc, braided strap) but not so much they lose the charm of the American shoe that says "yeah I have nice shoes, but if we walk through that muddy field it's fine, I'll just have dirty shoes."  Which is really what I'm looking for from most shoes. ($5)
Howard & Foster 
And then some outliers. Brands that I can't even specifically find info on, but have all the hallmarks of great American shoe styling.
These are my favorite dress shoes.  Rich mocha brown, wholecut with just some decorative stitching on the vamp. These look great with any dressy outfit as long as you're not wearing black pants (and why would you do that? You read blogs!!) ($8)
Freeman
And to cap it off, my favorite shoes, brown longwing brogues.  One of maybe 3 items I would say could actually fit into any wardrobe.  These have a slightly  chiseled toe and subtle burnishing to complete their "distinctly American but slightly European leaning that could make them palatable EVEN TO #MENSWEAR. ($8)
Now obviously you won't find these specific shoes.  But it serves as a primer for both the shoe wardrobe (this wouldn't be a bad starter 8 pairs of shoes) but also as a reminder that while you won't necessarily find items that have been officially sanctioned by StyleForum or #menswear or VoxSartoria or whatever, but you can find items of great style and value for very little money.  I know it's only a couple hundred for some brand new Meermins, but these 8 pairs cost me about $65, so you could do better.  Just saying.
*Ed Note: probably too many shoes. Including shoes, boots, sneakers, slippers and "I still own this but can't get rid of it for sentimental reasons, its about 60 pairs… be gentle with the Imelda Marcos jokes
**Ed Note: Offer not valid for anyone anywhere for any reason.
Tweed and Tassels, Philadelphia, PA. 


Photos: Urban Fieldnotes
A game I play at work is "does this guy read menswear blogs?" (the answer is obvious pretty much always).  I assume these guys do (hello tassel loafers!), but they don't look like they have a blog, which is a nice change of pace.
#Menswear killed blogging about style
With the recent attention paid to "the industry" and its pernicious influence on #menswear blogging (which, if you'll recall, I mentioned as the primary reason I took a blogging hiatus about a month ago [ed. note: not that I'm trying to suggest I'm ahead of the curve… oh wait, no that's exactly what I'm trying to do]) I humbly suggest that style blogging was fucked from the moment it got its own hashtag.
The problem is that style blogging got co-opted by the #menswear blogger almost instantly.  Initially style blogging (we're talking way the fuck back even before I started in 2009) was primarily talking about the ins and outs of style returning after the 90's and 00's kind of killed the idea of being stylish in public.  Discussions of "rules" and what you could break and not, the styling of various garments and their histories, stylish men from yesteryear and the like.  Blogging about style and what style means and what it means to be stylish.
It very quickly morphed from focusing on style to shallow focusing on "cool" guys who seemingly just travelled to trade shows, posed for the camera, wore expensive shit and wrote about how awesome this expensive shit was and where you could get new, different expensive shit next season and which designers were producing the BEST expensive shit and the newest expensive shit all the while obfuscating the fact that they're in cahoots with the expensive shit makers to pitch the expensive shit to people who don't know any better but want to be stylish.
Blogging about style got crushed by the image of style bloggers.
I know blogging is a quick way into "the industry" these days (fuck, even my blog was my gateway to my very non-insidery job as a functionally independent vintage clothing dealer) but consider why you're doing it.
Caring about personal style is great, writing about your style is great, sharing your style is great.  And there are still some bloggers writing substantive reviews of clothing and talking with manufacturers out of their love for it.  That's all fine and provides useful info to people trying to figure out how and why they want to dress better.  
But if you just want free stuff and press and to get your foot in the door to something that'll provide you with expensive shit and shallow focus pictures of you looking cool, don't pretend that you're writing about style. You're just [hashtagging] some menswear.
Q:Statement: I honestly love your blog - in every incarnation. I consider it one of the most important I follow, and I believe I have read every article you've posted (did a way back tour once I've found your blog). For me, it's a refreshing voice amongst many blogs that I like as well, but that promote this unifying, "buy better" (= hellishly expensive), ultimately consumption-based approach to style. Here, it's like 100% punk rock #menswear heaven. And that I appreciate. Keep writing, please. J.

Anonymous
I think I'm going to change my tagline to "100% punk rock #menswear heaven."
The Thrifted Wardrobe: Bold Outerwear
One of my favorite aspects of winter style is the ability to, in effect, wear 2 outfits at a time. Bold outerwear is easier to wear and style without becoming "that guy in that coat" for 2 main reasons.
1. You take it off.  If you're not carrying on a conversation in the street (and why are you doing that? it's fucking freezing out!) when you get inside you remove your accessories and coat which often aren't seen again until you get dressed to leave (cue the chorus of "awesome coat man!)
2. If you're buying at a thrift store you can have a whole stable of coats, you can be "that guy with all those awesome coats!" Which works for me.
So here's some ideas on bold outerwear. We seem to be in for plenty more winter, so it'll still be relevant.
Hunting Coat: Handmade $5
Scarf: Scottish Cashmere $10
Hat: Handmade $1
Most days this winter I've worn some combination of boots, jeans, a heavy sweater (think more crew neck shetland or aran, less v-neck merino or cashmere). With rugged pieces like this I can think of no better compliment than a serious hunting jacket.  This one has hand warmer pockets, a game pouch, and red houndstooth lining.  I've paired it with blue and tan, which I think offsets the red and black quite nicely moving it from the forest to the Forest City.
Peacoat: Zero King $5
Scarf: Pendleton $5
Hat: Patagonia (Gift)
Or if you are wearing something a bit nicer (think gray flannels and a sport coat, plaid if you're me, navy if you're a… well we call you guys "normies").  The fur collar adds a (I can't believe I'm using this word, but it's surprisingly appropriate) luxe touch.  While the scarf and hat add some great saturated complimentary colors without going completely bonkers.
Pea Coat: US Navy (circa late 70's) $10
Hat: Mad Bomber $5
Scarf: Scottish Cashmere $10
There are maybe 3 items I would say can actually fit into anyones wardrobe and a Pea Coat is number one with a bullet (shawl collar sweater and brown longwing brogues are the other two if we're keeping score).  But the Pea Coat's greatest quality is its ubiquity, so to separate yourself from the pack try a bold scarf and unusual hat.  I'd say that the bomber hats are "trending" in Maine, but that'd be a lie.  It's like when people say Bean Boots are "trending," they're just so practical that their function improves their form.  Plus, red plaid with real fur lining is like AFoS ambrosia. 
Lastly we come to the foul weather gear.  I truly believe that high contrast outwear is important for foul weather as a safety issue (things you probably don't know about AFoS, I'm a safety nut).  Given the amount of snow removal going on at any moment in Portland ME this winter you're probably better off with a bright red or green (or whatever color strikes your fancy) that catches the eye of the plow guy instead of a gray or navy that blends in to the background and gets you run over by a half ton truck.
Baxter State Parka: LLBean $12
Hat: Mexicali Blues $2
The Thrifted Wardrobe: Intro
Greetings to what may very well become a multi-part series!
As I grapple with my existential angst over people paying hundreds or thousands of dollars on clothes and then justify it to themselves by telling others (read: me) "that's just what it costs" I find myself coming to the realization that on some fundamental level my wardrobe is different from… I don't know, bloggers? other stylish guys? EVERY-FUCKING-BODY?!
Now I want to know why.
To be blunt the idea of a singular, one size fits all mens wardrobe is offensive to me.  The "well-dressed but unremarkable" drum that so, so many bloggers bang is so closely tied so many corporate/elite/monied/traditional interests and opinions and it has almost nothing to do with me and my life.  That wardrobe and the building of it are fine, it's nice looking and projects an image of wealth and power.
But that's not for me.
I'm not going to pretend that I'm captain A#1 style guy whose style is perfect and internet approved and photo ready at all times.  That's not who I am, and for me to dress that way would be a lie.
My wardrobe has been thrifted.  Certainly the internet has influenced it, as has living most of my life in Northern New England, as has my desire to be "counter-cultural" (read: just slightly hipper than most hipsters).  I find this is a strange position, as I care more about clothes than most of the people I know in real life (by a pretty huge margin) and less than the people I know online (by an equally huge margin).
So this new series will explore some distinctive qualities of a thrifted wardrobe.  Obviously I can't extrapolate out one to one because everyone's thrift store experience will be unique, but these are some things I've discovered about my wardrobe, hopefully you can apply them to your own as well.
AFoS Ver. 9: 2014 and beyond
There's been an outpouring of support for AFoS lately.  I'll be honest, you guys have convinced me to "come back" because I kind of thought that once I was out of the game for a month or so everyone would forget me.  I guess I actually do fill some niche in the internet and I want to know exactly what that is.  
I'm trying to do something new with the blog, I'm not sure exactly what that'll look like (by my count this would be the 8th iteration of AFoS in 4 years).  So I'll ask a very small favor of the internet.  If you like this new version, let me know. There's been lots of love lately and it means a lot to me.  So like, reblog, send me messages, questions, whatever.  I'm very out of the [hashtag]menswear loop, so I have trouble reaching new readers sometimes. Hopefully by year 8 and version 23 I'll have figured out what this blog is.
Thanks all,
AFoS
Q:A Fistful of Style, An Affordable Wardrobe, Broke and Bespoke. You sir are a rarity, a much needed resource and an inspiration. Only one of three I look forward to reading. Any dolt can write a men's fashion blog. You take it to a new, interesting level. Bob, St. Louis Mo

Anonymous
I like that I have conveniently picked an alphabetically first blog handle that places me subtly ahead of my considerably more esteemed colleagues (blolleagues?)
Q:Hello. Sounds like you could use some outside validation? Here's some! Your page is one I frequently return to (I won't name names, but it is bookmarked among the creme de la creme). Our tastes differ somewhat, but I always enjoy your unconventional approach and kind attitude. And your honest self-assessments. Keep doing your thing (whatever that ends up meaning).

Anonymous
I APPRECIATE THIS!! (really, I really do.)
End of Season Sale!
I know I promised more content (and I did write something, so it isn't a total lie).  But I have bills to pay and this time of year is slow for retail. So there's a sale at A Fistful of Vintage running through March 3rd!
Enter coupon code "WinterDoldrums" for 25% off anything in the store!
Here's my personal favorites.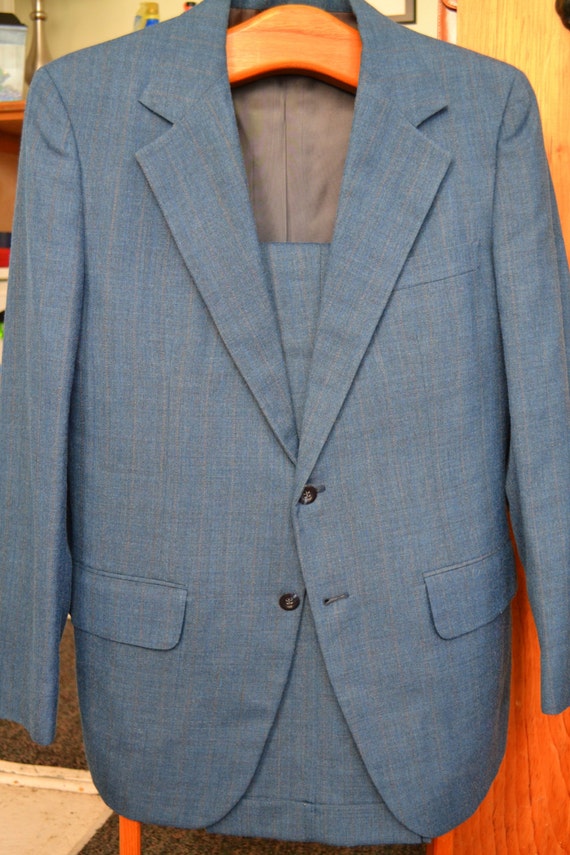 Vtg. Penney's Air Force Blue Striped Suit Sz 41 $60 $45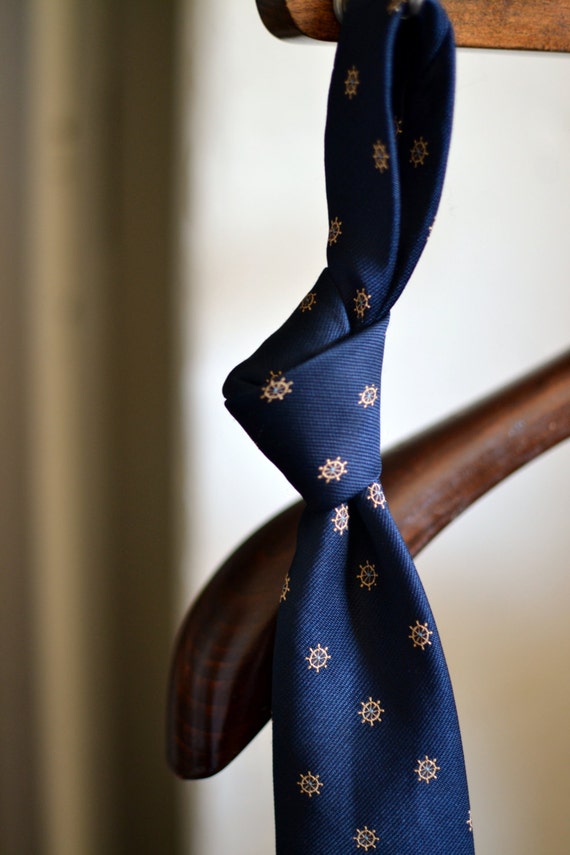 Vtg. Jordan Marsh Navy Blue Ship's Wheel Foulard $25 $20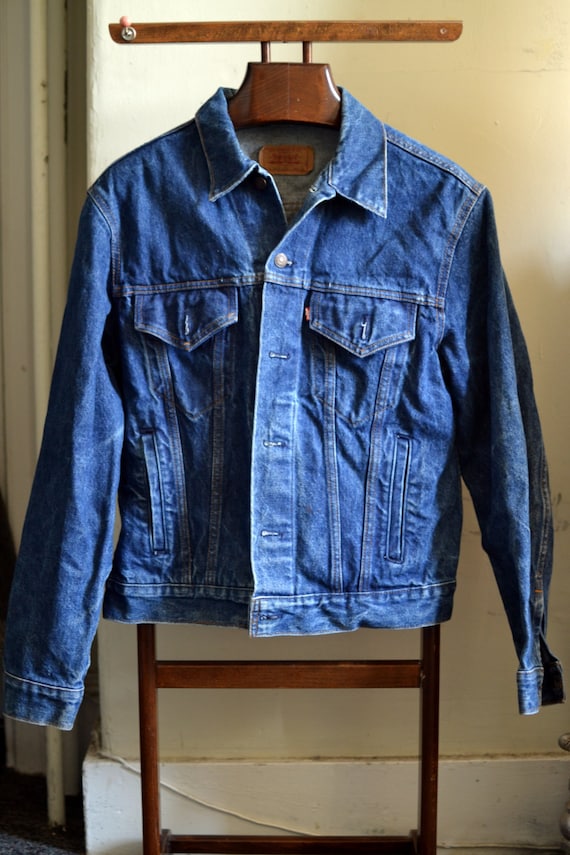 Vtg. Levi's Trucker Jacket $40 $30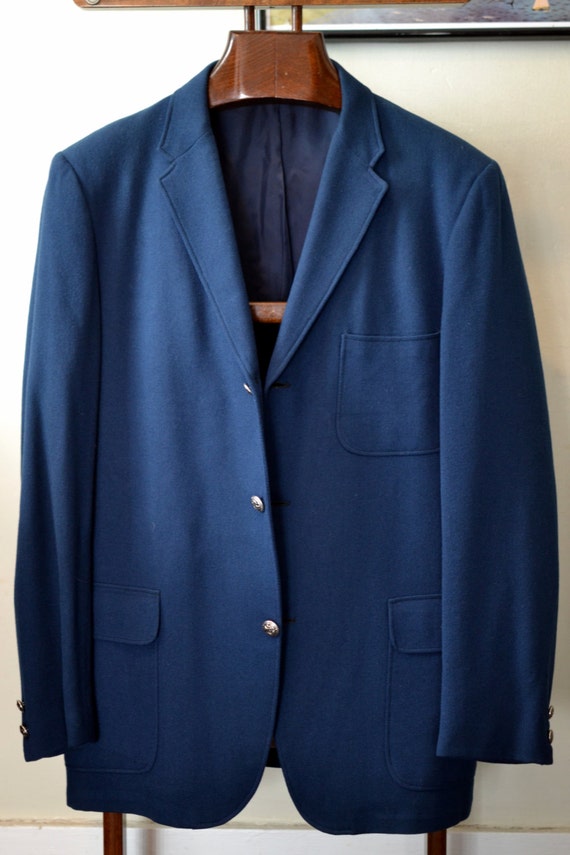 Vtg. College Town Air Force Blue Blazer w. Triple Patch Pockets Sz 40/42 $60 $45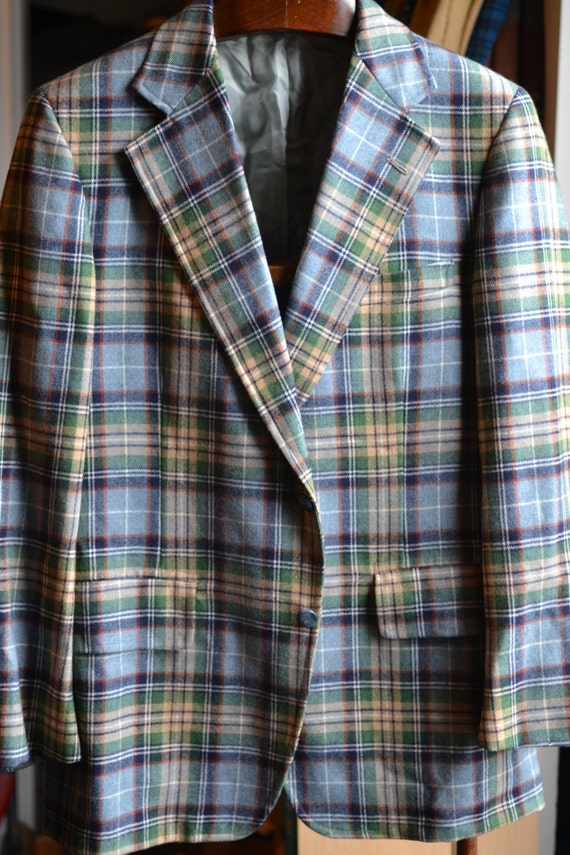 Vtg. Higbee's (amazing, spectacular) Plaid Sport Coat Sz 40/42 $60 $45
So check it out (and you know… do the tumblr thing where you tell other people how great it is).  I'll get back to writing and photographing stuff so maybe you think about it some more while I flood your dashboard with this till March 3rd.
Nobody gives a shit about menswear (and other thoughts from what is probably an unstylish life)
In 2nd grade I had a blue windbreaker with a Polynesian style zombie head on the back. I can't recall who made it or where in the world I could have come by it, but there it was, on my back most days since I thought it was cool. I wanted to show it off, but nobody really cared.  It was 2nd grade and I was a weird kid, a bit too smart for eating paste, but also a little too smart to be "normal".  My style was weird 2nd grade style and nobody gave a shit about it.
In 8th grade I got a misfits Mohawk and some plaid pants that I put zippers on the back of and handmade patches all over.  A dickbag in my math class tried to cut my hair off during class, and my friends and co-punk rockers decried my pants as trying too hard. I didn't cut out the back portions for the zippers, I hadn't seen some of the bands, I used a Bic pen for some of the patches. Who was I fooling? My style was punk rock and nobody gave a shit about it except when they were telling me how to do it better.
Junior year of high school I had a brown leather bomber I bought for $5 at a thrift store.  Someone told me it was cool once so I wore it every day.  Eventually it coalesced into a personal uniform.  Baggy jeans with huge knee holes, black zip up hoody and that leather jacket.  But it was only cool that once.  Then it was "why do you wear the same thing every day?" "Don't you have any other jeans?" "You're not cool, you just pretend you are." Nobody gave a shit about disaffected teen style; they just needed something to give me shit about.
Senior year I just started grasping at straws.  Red satin shirts, animal print & plaid patched black skinny jeans, weird Vietnamese leopard print tailored shirts, anything to put my stamp on my style. Make it unique. People barely noticed, it had become a burden to even pay attention to my stylistic evolution.  Nobody gave a shit about glam rock cum punk blowout cum angry 18 year old style.
At 22 years old I got a job temping at a law firm.  I wore baggy black pleated chinos, glue-job square toed shoes and non-iron shirts left over from my mom buying me some "nice clothes" when I was like 14 or 15.  I was invisible.  Nobody noticed me. Nobody, rightly, gave a shit about boring, slumpy, bored college grad style.
When I turned 26 I started this blog.  I studied well and learned all the tricks.  I layered my denim jackets under my sport coats with a down vest over it, I bought a double breasted blazer, I tried to wear casual suits, I bought a Drakes tie and convinced myself it was objectively better than other ties I wear more, I wore my tie blade longer in the rear than the front. I FUCKING GOT IT MAN! I FINALLY GOT #MENSWEAR.  PEOPLE WILL NOW CARE ABOUT MY STYLE!! The internet was ambivalent, preferring by a wide margin my musings on the thrift shop. Telling me I had stupid opinions on people saying I'm not spending enough to be stylish. Telling me my opinions were valid/invalid because of how I dressed and looked at the world.
The real world ranged from "nice suit!" (I was wearing jeans and a sport coat).  To "You always look so amazing!" (wearing jeans and a sweater). To "why are you so dressed up?" (I have no idea, it's hot out here and I'm uncomfortable).  Nobody gave a shit about #menswear.
2014? I got my thing.  It's more work-wear meets 1970's ivy league meets classic New England, but it works for me.  It's not internet sanctioned, it gets very few comments, and sometimes I think I should still try and blow it up and start from scratch again.  But when  I roll into places during the winter people like my hunting coat, or my cap-toe rubber soled boots, or my fur lined gloves, something small, but cool and unique.  Maybe nobody gives a shit, but it's not quite as in my face, I don't have to compete with myself for my style. And I'm not doing it for anyone else anymore.
Q:Your blog is so unique and interesting. I hope you don't give up on us regulars! Bob, St. Louis, Mo

Anonymous
I really appreciate this (apparently people did notice I was gone!).  This month I'm going to do some real blogging, not just WIWT when I have time. Though hopefully I'll still put up some WIWT (when I have time).  See you all soon.
Q:Any reason why you haven't blogged as much as usual?

Anonymous
Yes, but it's not a particularly good one.  I was really busy around the holidays (I work in retail) and just couldn't work up the motivation.  
But more importantly the break made me realize just how little the (hashtag) that I vaguely threw my blog-lot (blot?) in with 3 years ago (actually nearly 4 now… jeez I'm old) has to do with me anymore.  
As more and more bloggers are subsumed into "the industry" (whatever that is) I find the line between "interesting stylish people that have independent opinions I care about" and "lookbook photo with unremarkable commentary" is blurring so much that I'll scroll through my feed and not be sure who's trying to sell me something and who's just opining on a subject they care about.
Which isn't to say I've lost interest.  I just haven't sat down and decided what I want AFoS to say, because I have something to say (and something to sell you, from my [independant] online store).  I'm planning on using February to try and revamp the blog into something more "writerly" so I can do more "bloggering".  Hopefully the 925 of you that have stuck around this dark month will still be there on the other side.
TL;DR — Fuck you, read the damn thing, it's only a 60 second read.
AFoS